Featured Star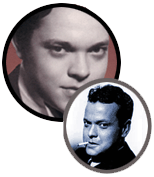 Orson Welles
Before Orson Welles revolutionized filmmaking in America, he was a formidable presence on radio. Orson participated in more than 100 radio dramas between 1936 and 1941 and brought "The Shadow" to life in 1937. But, it was his 1938 production of H.G. Wells' "The War of the Worlds" that radio-listeners would remember the most.

The broadcast caused widespread panic as thousands believed aliens were invading and destroying New Jersey and New York. This was Orson's ticket to Hollywood, where he would go on to make what many consider the greatest film of all time -- "Citizen Kane." Despite critical acclaim, the movie was a commercial failure, and his next few efforts were also not successful.

Orson headed to Europe, (ironically where he began his acting career) to star in other filmmakers' movies and raise money for his own projects. However, Orson developed a reputation as an erratic filmmaker who was unable to control budgets and finish projects. He spent his final years appearing in television commercials and on the talk show circuit. Before his death, Orson would finally be recognized as a visionary and his works as masterpieces.

Did you know:
He formed the Mercury Theatre group in 1937 with fellow actor-producer John Houseman?
He was married to one of Hollywood's most beautiful women, Rita Hayworth?
He was the voice of the never-seen Robin Masters on "Magnum P.I.?"
He was only 25 years old when he made "Citizen Kane?"